Visit "AUTHENTIC AUTOGRAPHS" section to aquire Karen Lynn's autograph from Saturday Night Fever and All My Children
KAREN LYNN GORNEY played "Frances Foley" in the new Black Comedy Off B'way at The Irish Arts Center Opened June 5, 2008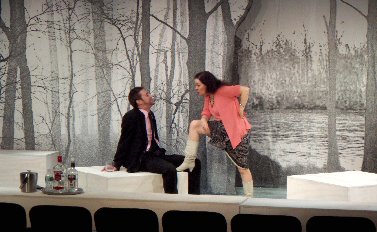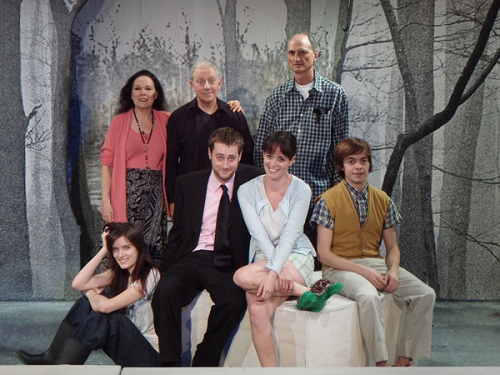 | | |
| --- | --- |
| 11/16: Karen Lynn opened Off B'way in the crazy comedy theatre piece "The Merry Wife of Windsor" ; a send up of the Duke and Duchess of Windsor (played by Ms Gorney)written by John Hart, at the Sonnet Theatre 358 W 44th Street, New York City, NY 10036. For Tickets and Info for future performances email: Johnhartstudio1@mac.com | |
Below Karen Lynn as "Duchess of Windsor" with Duke, Queen of England, and Art Dealer as Maid: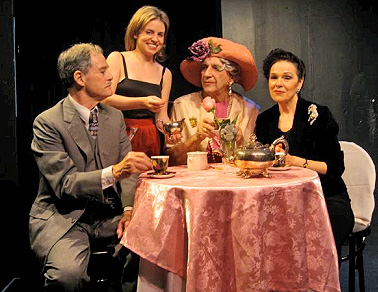 Karen stars in "CREATING KARMA" just choosen for the world renown Portobello Film Festival in London, U.K. info : www.creatingkarma.com also chosen as TOMI FILM FESTIVAL Selection Feb 14-16 2008 Zeitgeist Theatre, New Orleans, Louisiana
Watch for Karen's 7 recent films: "Therapy," "Creating Karma," "George," "A Crime" with Harvey Keitel, "100 Years of Evil," " Liars and Lunatics," and Wayne Gurman's award winning black comedy screenplay "Bronx Paradise."

Karen Lynn Gorney is the romantic star of SATURDAY NIGHT FEVER: the "fantasy girlfriend" (Stephanie Mangano) who said "no" to John Travolta, (after winning a dance contest with him) and won his heart. This Super-Mega-Hit film and soundtrack was just re-released on on a new DVD to raves.
Miss Gorney is also the legendary TARA MARTIN, one of the original family members (Tad's big sister, Joe Martin's daughter, Erica Kane's greatest enemy,) on ABC's long running, award winning, ALL MY CHILDREN: "Tara Martin" is a role Karen originated and still plays today when time permits. Karen Lynn plays "Judy " in the SOPRANOS Sixth Season.
A classically trained actress and winner of the People's Choice and European Bravo Awards; with an BFA and a MFA from Carnegie Mellon and Brandeis Universities, Miss Gorney has received raves in New York City the United States, and Internationally performing everything from Shakespeare to Neil Simon. Many of her new films are now on video and DVD.
Karen starred as "Gertrude" last summer in Hamlet with the renowned Frog and PeachTheatre Company in NewYork City at the Advent Theatre.(website: Frog and Peach Theatre Company Inc.) She also wrapped "Therapy" for Living Center Films starring as "Eve," a Psychologist. This film is a psychological thriller about multiple personality disorder. No release date yet.
---
Karen Lynn Gorney and John Travolta




personally autographed by Karen Lynn Gorney:THE SATURDAY NIGHT FEVER 30TH ANNIVERSARY SPECIAL COLLECTOR'S EDITION DVD AUTOGRAPHED BY KAREN LYNN GORNEY (contains special new interviews with Karen Lynn and the rest the rest of the cast and crew and many fabulous special features) For credit card purchase click Official Autograph Store at this website.)

Celebrate the 30th Anniversary of Saturday Night Fever with a phone call from Karen Lynn, click on:



---
YouTube - Wacky Woodstock hippie water birth! Karen Lynn Gorney Stars in CREATING KARMA, an Award Winner at the Brilliant Light International Film Festival of Los Angeles, screened at CANNES in the 2007 MARCHE DU FILM. Jill Wisoff Director.
| | | |
| --- | --- | --- |
| | Karen's film Searching for Bobby D. with Carmen Electra, and Sondra Bernhard is playing to raves all over the country and internationally at Festivals was released on DVD. | |
---
In between acting gigs Karen Lynn performs her Dad, Jay Gorney's music (Composer of mega hits "Brother Can You Spare a Dime," "You're My Thrill") in support of her rave reviewed new jazz CD of his music, HOT MOONLIGHT! available in stores and on this Web Site, click KAREN LYNN GORNEY's OFFICIAL Authentic AUTOGRAPH, MUSIC and ART STORE.




"Hot Moonlight" Price: $30.00 (with autograph, including postage and handling) Buy It

More about Karen's Dad and his songs visit : http://www.gorneymusicpublishing.com/

Karen's Mom, Sondra, just wrote a book on Karen's famous songwriter Hall of Fame inductee Dad called BROTHER CAN YOU SPARE A DIME. (below from the Songwriter's Hall of Fame e-magazine)

JAY GORNEY BIOGRAPHY PUBLISHED: "Last January, the Grammy's inducted Bing Crosby's 1932 recording of "Brother, Can You Spare a Dime?," the anthem of the Great Depression, into its Hall of Fame. The late SHOF inductee Jay Gorney composed the music for this enduring classic with lyrics by fellow inductee E.Y. "Yip" Harburg. Jay's biography, Brother, Can You Spare a Dime?: The Life of Composer Jay Gorney, written by his wife of 45 years, Sondra K. Gorney, chronicles his life from his childhood in Russia to his many stage and screen successes." Click Sondra Gorney for more info on the book.

Karen with the late Jerry Orbach in
Law and Order

Karen as "Mrs. Parnel" in the film,
Final Rinse with the late Frank Gorshin.
Want to write Karen Lynn Gorney? Karen would love to hear from you! Contact Karen on

Karen Lynn Gorney and Richard Hatch "Tara" and "Phil" All My Children