Recent News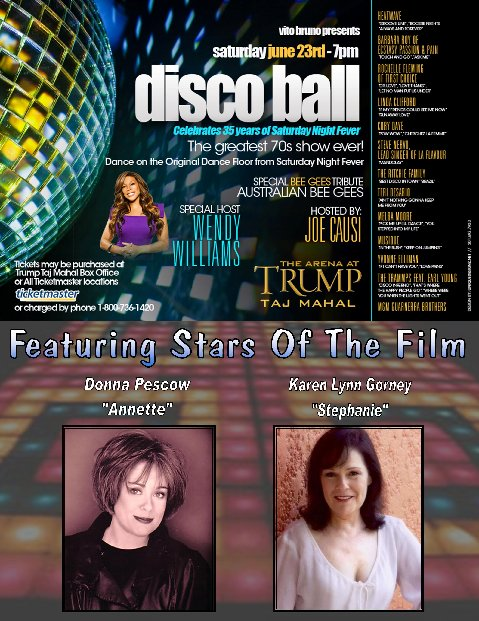 ---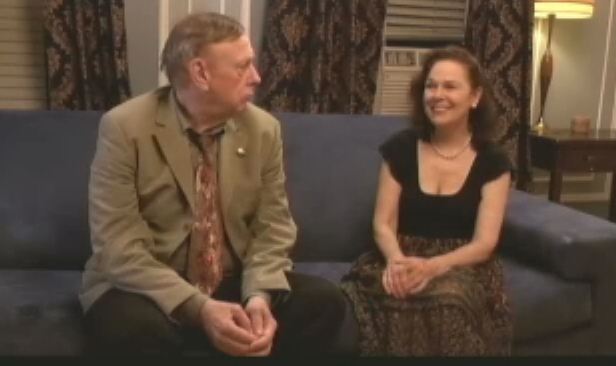 March 3rd at 8:00 PM: Karen Lynn stars in the Award winning film CAN'T DANCE at The Jackson Heights Cinema. This film is the first section of a new film about romance.It is shown as part of the Queens World International Film Festival at the Museum of The Moving Image.

the Queens World Film Festival 2012 :: Films

See http://www.ny1.com/content/top_stories/156851/queens-film-festival-gives-credit-to-local-talent

---

Karen Lynn Gorney (the "Mysterious "Judy G.) singing " Rainbow Lullaby" in PARKER & DIZZY'S FABULOUS JOURNEY TO THE END OF THE RAINBOW was EXTENDED thru Sept. at THE PLAYERS THEATRE on MacDougal Street, right in the heart of the Village in New York City. David Kennerley called it, "A joyous, loopy romp-precisely the kind of show you dream of discovering..."
www.parkeranddizzy.com
---
Karen Lynn Gorney as "Elizabeth" in
The Imperialists Are Still Alive!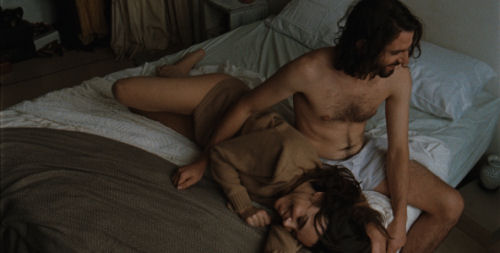 Directed by: Zeina Durra

You can see Karen's new film "The Imperialists are Still Alive" on Time Warner Movie Channel 1000-go to " IFC in THEATERS" or on Cable-Vision (Optimum), go to Movies on Demand, New Releases. She plays "Elizabeth" the civil rights lawyer
---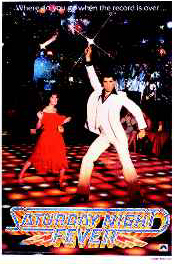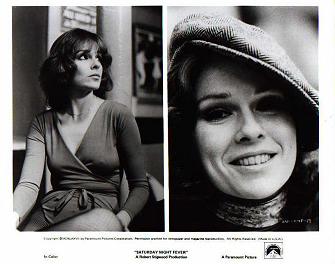 ---

Karen Lynn Gorney at From Paris With Love Premiere: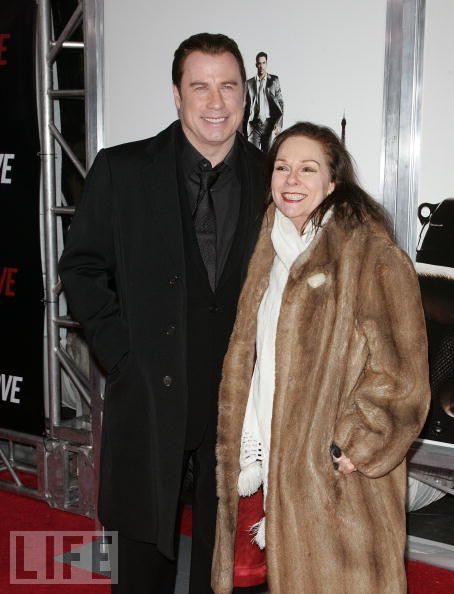 ---
Karen Lynn Gorney as "Lady Belaria" in Shakespeare's
Cymbeline at the West End Theatre in New York 2010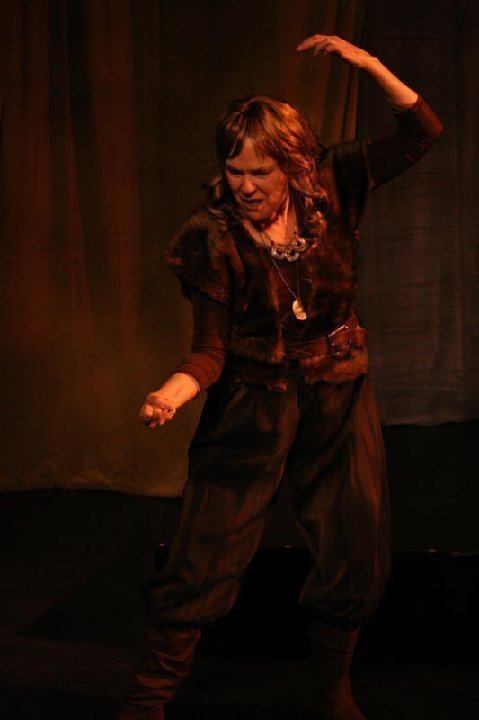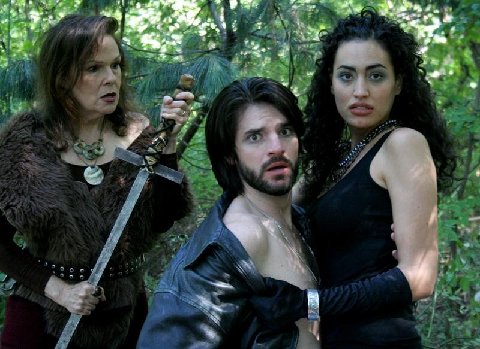 ---
"Saturday Night Fever – The Inside Story" aired on March 17th on A & E's Biography Channel.
---
CREATING KARMA played at THE 15TH ANNUAL LOWER EAST SIDE FESTIVAL OF THE ARTS FILM AND VIDEO FESTIVAL SATURDAY, MAY 29th located at 155 1st Avenue, between East 9th and East 10th Streets
Featuring: Karen Lynn Gorney, Carol Lee Sirugo, Jill Wisoff, Joe Grifasi.
---
Karen Lynn Gorney as "Marlene Dietrich" at the TRIAD, NYC Nov. 2009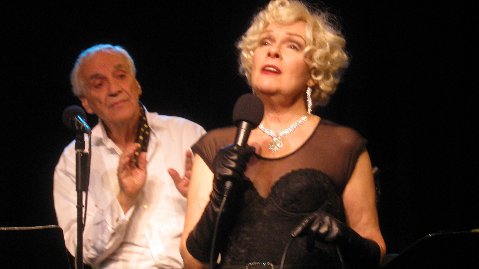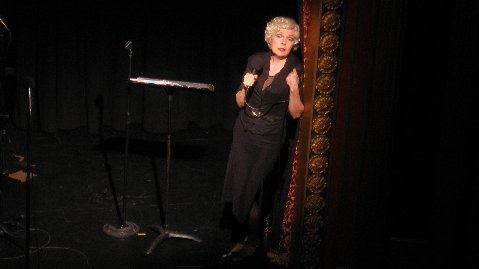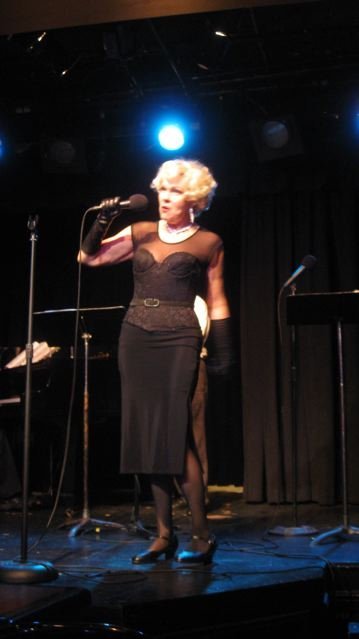 ---
Karen Lynn Gorney stars in CREATING KARMA:


East Coast Premiere

! November 13-19, 2009 Bethel Cinemas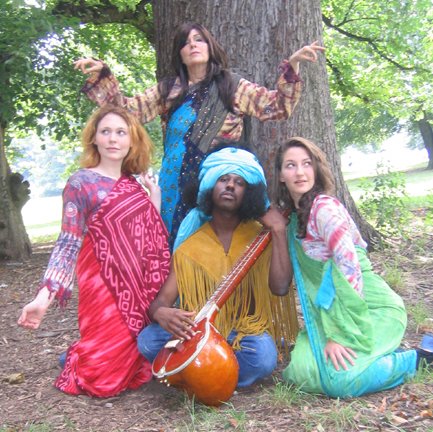 Karen Lynn Gorney, dancing diva co-star of Saturday Night Fever, is the top billed star in the new comedy feature CREATING KARMA having its US Theatrical premiere the week of Oct. 16 in the role of Chanel "Fields" Fontaine, Karma's glamorous, shopaholic mother.

NewsTimes.com Hearst Newspapers Nov.2009: Interview with Jill Wisoff, director of Creating Karma

"I understand Karen Lynn Gorney (best known for her role as John Travolta's dancing partner Stephanie Mangano in 1977's "Saturday Night Fever") is in the cast. What was it like to work with her? Is there anything about her that fans would be surprised to learn?

Karen (who plays a shopaholic British woman named Chanel) doesn't have that strong Brooklyn accent that we all remember her with in "Saturday Night Fever." It was all acting. She is a very accomplished actress and was a dream to work with."

---
Karen Lynn Gorney played "Mrs. Heart" in a new play for Karen's first ever famous New York City Fringe Festival
Writer: Tim J. MacMillian
Director: Sally Burtenshaw
Summer 2009
FRINGE FESTIVAL: BREATHE
New School Theatre
151 Bank St (West "Washington)
---
November 7, 2009 7:00 PM
Mickey B Presents
Saturday Night Disco Fever
Patchogue Theatre for the Performing Arts



Starring: Karen Lynn Gorney (Special Appearance) - The Trammps - Harold Melvin's Blue Notes - France Joli - Sweetwater Orchestra - Phil Francavilla

Dance Contest and John Travolta Look Alike Contest

Information:Tickets, Rules and Entry Forms

contact
Mickey B

Mickey's Entertainment & Promotions

(516) 822 - 9612
www.mickeyb.com
---
The Great Singers of the Big Bands:
Karen Lynn Gorney sings and narrates
Bendheim Matinees 2009 Season



Sentimental Journey: November 11, 2009, Wed. 3pm
The Great Singers of the Big Bands
Scarsdale, New York, 914-472-3300 ext. #403
www.thebendheim.org
---
Karen Lynn Gorney
Perennial Bendheim favorites, singers Wendy Kimball and Sean Mahony, accompanied by the Mark Toback Trio, pay tribute to that most wonderful era of popular music: the Big Band Era. The female singers of the day featured Rosemary Clooney, Doris Day, Ella Fitzgerald, Billie Holiday and Helen O'Connell. Male singers included Dick Haymes, Billy Eckstine, Bob Eberle, Perry Como and Frank Sinatra. This was a unique period in the history of music. Jazz critic Gary Giddins said: "During the big band era, popular music was good and good music was popular."
---
Saturday, May 3, 2009

Karen Lynn Gorney appears at the Classic Disco Night in Tom's River, New Jersey to raise money for Alzheimer's Awareness.
---
March 11, 2009
Eine Kleine Café: Bendheim Performing Arts Center (click for tickets)

Karen Lynn Gorney narrates and sings Yip Harburg's "Adrift on a Star" from the musical: The Happiest Girl in the World.

Spend an imaginary afternoon sitting in a quaint café on the banks of the Danube and be entertained with the glorious music of Franz Lehar, Johann Strauss, Amadeus Mozart and Fritz Kreisler. Relish those haunting and magnificent strains of gypsy melodies, the Hungarian czardas, and a surprise German tango. Join baritone Edward Huls, pianist Mark Toback, violinist Sandra Schipior, clarinetist Gene Keyes and bassist Tom Kirchmer as they transport you back in time toof elegance and beauty in Old Vienna. Click here for tickets.
---
December 3, 2008 Karen Lynn Gorney narrated and sang:
Make Someone Happy: The Music of Jule Styne:

---
RICHARD III
KAREN LYNN GORNEY played "Mad MARGARET" this season in Richard III Off B'way with ANATOL YUSEF, a marvelous RICHARD III. He recently appeared with THE ROYAL SHAKESPEARE COMPANY'S critically acclaimed KING LEAR, (starring the legendary CORIN REDGRAVE). Check out this fine young actor's work in the hit film LAST ORDERS, with MICHAEL CAINE, BOB HOSKINS, and HELEN MIRREN. Frog and Peach Theatre Company Inc.
Click pics for large view
---
Karen Lynn is a Member of the Famed Irish Repertory Company Off B'way:
The Field, IRISH REP COMPANY, OFF B"WAY NEW YORK REVIEW: NY Theatre.com August 2006:

Karen Lynn Gorney gives perhaps the finest performance of all (one of the very best I can ever recall seeing, in fact) as Dandy McCabe's wife, "Mrs. Dandy McCabe." With economy and humility, Gorney lets us into the heart and soul of this touching woman just by letting us see her laugh, carelessly hold onto her husband's hand, or reach thoughtlessly for her hat when she's suddenly startled.
Gorney's work is indicative of the overall excellence of this production, due in no small part to the fine direction of Ciaran O'Reilly (who went on in the play's final role of William Dee at the performance reviewed). Great care, thought, and respect has gone into the creation of every aspect of this show...
---
Karen as "Lucy DeFrisco"in film Bronx Paradise last season


---
Karen Lynn just played "Frances Foley" in the new Black Comedy MONSTERFACE Off B'way at The Irish Arts Center that opened June 6, 2008.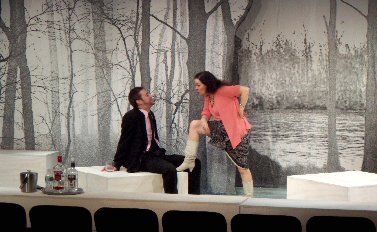 ---
11/16: Karen Lynn opened Off B'way in the crazy comedy theatre piece "The Merry Wife of Windsor" ; a send up of the Duke and Duchess of Windsor (played by Ms Gorney)written by John Hart, at the Sonnet Theatre 358 W 44th Street, New York City, NY 10036.

For Tickets and Info for future performances email : Johnhartstudio1@mac.com

Below Karen Lynn as "Duchess of Windsor" with Duke, Queen of England, and Art Dealer as Maid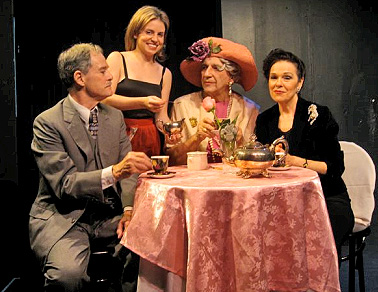 ---
Karen stars in "CREATING KARMA" just choosen for the world renown Portobello Film Festival in London, U.K. info : www.creatingkarma.com also chosen as TOMI FILM FESTIVAL Selection Feb 14-16 2008 Zeitgeist Theatre, New Orleans, Louisiana
---
Watch for Karen's 7 recent films: "Therapy," "Creating Karma," "George," "A Crime" with Harvey Keitel, "100 Years of Evil," " Liars and Lunatics," and Wayne Gurman's award winning black comedy screenplay "Bronx Paradise."
---
YouTube - Wacky Woodstock hippie water birth! Karen Lynn Gorney Stars in
CREATING KARMA, an Award Winner at the Brilliant Light International Film Festival of Los Angeles, screened at CANNES in the 2007 MARCHE DU FILM. Jill Wisoff Director.

Karen's film Searching for Bobby D. with Carmen Electra, and Sondra Bernhard is playing to raves all over the country and internationally at Festivals was released on

DVD.



---
Karen Stars in Creating Karma:


Chosen as one of only two features to be included in the Gem City Film Festival down in Palatka (historically known as Gem City), Florida. A small but quirky film festival in an artsy community near Ocala, St. Augustine, Gainesville, the festival runs the weekend of January 19th. The screenings are hosted in a pavilion in a 54 acre state botanical park along the St. John's River called Ravine Gardens. There will be an opening night gala screening of REVENGE OF THE CREATURE FROM THE BLACK LAGOON!!!!!!!!!!!!
www.gemfilmfest.com (for more info)

CREATING KARMA, a comedy by first time feature director Jill Wisoff, will make its Los Angeles Film Festival premiere at the Brilliant Light International Film Festival:
Friday, March 2nd
7:30 pm
Raleigh Studios-Chaplin Theater
(Raleigh Studios is located at 5300 Melrose Ave. (near the Paramount Studios) between Van Ness and Bronson in Hollywood.
---
Karen Lynn Gorney Live at the The Bendheim:

Wednesday, February 14, at 1 p.m.

" IT TAKES TWO TO TANGO" Narrated by actress/dancer Karen Lynn Gorney: Bendheim Performing Arts Center 999 Wilmot Road, Scarsdale, NY 10583 Tickets: Sales/Information: (914) 472-3300, x403 Tango is the dance of love - a tribute to that most sensuous and beautiful art form - the TANGO. It's rich history and popularity has never been greater. Tito Castro and his thrilling dancers, along with pianist Mark Toback, violinist Sandra Schipior and bassist Tom Kirchmer present a program of breathtaking music and dance, featuring the Tango and other Latin American favorites.

Karen's film Therapy

Written and Directed by Gerald Schoenewolf

Is an Official Selection of the

NEWFILMMAKERS SERIES

SCREENING DATE:

in

New York City

Wednesday, February 7, 2007 SCREENING TIME:

7 PM ($5.00 admission charge)

ADDRESS:

Anthology Film Archives

32 Second Avenue (at 2nd Street)

Karen stars in Creating Karma which played on Oct 8th at the 6th Annual Coney Island Film Festival. Karen Lynn stars as "Lollipop Fields/Chanel Fontaine" in "Creating Karma" in a wild comedy for Fantasy Films. Filmed last fall, it is in Festivals all over the USA.

The Field, IRISH REP COMPANY, OFF B"WAY NEW YORK REVIEW: NY Theatre.com August 2006:

Karen Lynn Gorney gives perhaps the finest performance of all (one of the very best I can ever recall seeing, in fact) as Dandy McCabe's wife, "Mrs. Dandy McCabe." With economy and humility, Gorney lets us into the heart and soul of this touching woman just by letting us see her laugh, carelessly hold onto her husband's hand, or reach thoughtlessly for her hat when she's suddenly startled.
Gorney's work is indicative of the overall excellence of this production, due in no small part to the fine direction of Ciaran O'Reilly (who went on in the play's final role of William Dee at the performance reviewed). Great care, thought, and respect has gone into the creation of every aspect of this show...

last December 2005, Karen Lynn danced in a new Opera, based on "IL Trouvatore" called "Wellspring" developed in New York City for Off B'way in an all solo dancing role based on the mythic character "AZUCENA," for the Hourglass Theatre Company.

All My Children's "Tara" and "Phil" together again!!!!!!!!!!!!
NOVEMBER 18,19, 20th 2005, Fri, Sat. and Sunday Karen Lynn Gorney and Richard Hatch appeared at the Big Apple National! at Hotel Pennsylvania opposite Madison Square Garden in New York City.

Feb. 17 Karen Lynn appeared at the the 35th Anniversary Re-Union Party for ALL MY CHILDREN on "Soap Talk" on Disney's Soap Network. Karen is "Tara Martin," a role she originated. It aired Feb 17 nationally, (while Karen was in LA at the Hollywood Collector Show!) Celebrating with Karen Lynn- Susan Lucci, "Erica" -Tara's mortal enemy since High School, Agnes Nixon, Creator of ALL MY CHILDREN; Ray MacDonnell (Tara's Dad, "Joe Martin") and of course, Richard Hatch-"Phil," "Tara's" long lost love. Click here for pictures from this event!



Mar 2, Karen Hosted The Matinee Show Series "That Old Arlen Magic" the Music of Harold Arlen with The Pianolino Plus Chamber Orchestra at the Bendheim Performing Arts Center, Scarsdale, New York. Karen ssng "It's Only a Paper Moon" and "Happiness is Just a Thing Called Joe." (Lyricist ,Yip Harburg)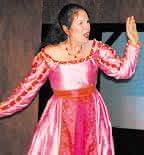 Karen Lynn starred as "Olivia" in Twelfth Night , August 2004 with the NorthEast Shakespeare Ensemble.Karen was featured in Boston Globe on 8/15/04 about her performance. production of "Twelfth Night." Click here to read the article.

Through Feb 2004 Karen was in residence at Bristol Riverside Theatre near Philadelphia, where she starred as "Mrs. Antrobus" in Thornton Wilder's Pulitzer Prize winning dark comedy SKIN OF OUR TEETH.

In January, Karen was interviewed on Television's Soap Talk on the Disney Soap Network; and on the Radio on Bonnie Grice show The Song is You that aired Karen's music in New York and California. Read the press kit by clicking here. (Microsoft Word Needed)

Shakespeare's KING JOHN : late last year Karen starred at the Arc Light Theatre Off B'way, winning rave reviews as "Constance of Brittany." Reviews to follow.

From Artzine Online:
"The grief-stricken Constance in her "mad scene" puts it with powerful Zen eloquence: "My name is Constance; I was Geoffrey's wife; Young Arthur is my son and he is lost." The aforementioned Geoffrey is the murdered Richard I (Goeffrey Plantagenet), and Arthur her just murdered adolescent son - the legal heir to the throne. Karen Lynn Gorney played the distraught Constance, first with understatement, then with fire. She has a clarion control of emotional effect. The venom was palpable in her rebuttal to King Philip "He talks to me that never had a son!" There was real moment in her "...let kings assemble" speech from Act 3."

Backstage.com (Off B'way):
"Karen Lynn Gorney is touching as Constance, Arthur's bereft mother"

Last fall and through this spring-Karen has been appearing and performing as Narrator and Singer to sold out crowds at the Bendheim Theatre in Scarsdale doing a Harry Warren Show, a Richard Rogers Show; and a show called Shall We Dance, where she narrates the history of Dance forms, and dances with Joey L. to Roberto Pagan's New Hustle Choreography.

Late last fall-
Karen was one of the Guests sharing the stage with Lynn Redgrave, Chita Rivera, Mary Tyler Moore, Cyd Charisse, Leslie Brown (Turning Point), Jacques d'Amboise, Bebe Neuwirth, Rosie Perez, Jane Powell, and Ester Williams at the City Center Dance Concert Benefit for Dancers.

Last Season
Karen Lynn performed her one woman HOT MOONLIGHT! Show a number of times at Chez Suzette in New York City and regaled sold out crowds with stories about her famous composer father Jay Gorney (Brother Can You Spare a Dime, You're My Thrill) while singing all the songs on her new HOT MOONLIGHT! CD of her Dad's hits
which was released to rave reviews last year and is now on sale in stores and on this website in the autograph store: below are some of the reviews-In Tune, International "...updated, hard driving, swift versions of songs...Karen really has her way with these songs. Excitement is in the air at all times...she sings her very heart out."

Variety:
"Gorney...has a good stage manner...in her musical performance she really scores. Her interpretations are often jazzy in nature, which suits her voice well...numbers are performed with an engaging lilt. Gorney has a background as an actress...and is ready to branch out."

LA Times:
"...Saturday Night Fever made Gorney an instant movie star...judging from her performance...her singing...can be classified as skilled."

The Evening Bulletin: Poptalk (Philadelphia):
"...a voice- two parts flirtatious/vivacious and one part sincere...
Brisk pacing, and inspired coloration...One can derive fair pleasure from the skillful weave of (the) rhythmic bed.'

Stevenslants by Gary Stevens:
"Her daddy, Jay Gorney, wrote hit melodies in the long ago 1930s, so daughter Karen Lynn laid down some tracks for a CD in which she gave a 21 st Century treatment to pop's output."

New York Sheet Music Society:
It is hard to decide where to start in praising this wonderful new CD:
Karen Lynn Gorney's terrific and individualistic style, or her father, Jay Gorney's terrific contribution to the Great American Songbook.
Both should come first! ... Karen has a wonderful balance of mood and tempo in her selections. It comes as no surprise that this is such a great album to listen to. Karen has been a professional all her life and it really shows...she is definitely her father's daughter, and she puts her own individual interpretation into each and every song.


CD signing last winter: The Compact Disc Shoppe in Brooklyn
Karen appeared and signed her CD-USED TO LOVE YOU MADLY-her own music and lyrics, rhythm guitar, vocals and harmonies and band (recorded in London at Abbey Road, in New York and Live from in Philly) written during the filming of Saturday Night Fever in her trailer ("Stephanie's" thoughts and feelings about love).
Karen also signed her newest CD THE DANCE OF THE DEADLY'S-electro-funk trance dance music written by Andrew McCann, lyrics and vocals and harmonies by Karen Lynn. Each song is a different Deadly Sin! Also available on this website. Listen to clips on the "Juke Box" in the autograph store.

Let Me Turn You On "Dance Remix" This is the first song on Karen's NEW Dance CD in stores and on the website in the autograph store called "The Dance of the Deadly's." Visit the Jukebox page to hear the whole clip! and clips from Karen's other CD's.

Extensive article on Karen in TIME OUT MAGAZINE hit stands Dec. 2003. Karen is featured in Time Out New York Magazine, Issue #375 December 5-12. Click the following links to read the article right here! Note: page one features an awesome picture of Karen at the Odyssey Disco in the present time! page one and page two

Nov 23 Karen's HOT MOONLIGHT! CD. was on WOR am Radio at 12 midnight on Joe Franklin Show with interview.

On SUNDAY, SEPTEMBER 28th 2003 Karen did the KTU Joe Causi radio show 103.5 AM New York City. Below are pictures of Karen and Joe from this event. Pictures are in the KTU studio. Thanks to Joe Causi for sending us these pictures of Karen on the air!








NEWS ARCHIVES
May 19, 2003 Karen played the role of "Yvette" in The Duchess and the Duke at the Stella Adler Theatre, New York City.

Catching Up with AMC'S Karen Lynn Gorney, Soap Opera Weekly magazine for April 8, 2003 posted an interview with Karen about her role as Tara. Click here to read it here online!

Karen performed on Staten Island Cable TV at the end of March : "LET THE GOOD TIMES ROLL" Show with Vito Piccone. Karen sang two songs from her new CD HOT MOONLIGHT! with pianist-husband Mark Toback, and talks about her Artwork and gig at Chez Suzette April 5,13,14.

Karen's new CD "HOT MOONLIGHT!" is now available in stores, and thru her website. See autograph area in the store.

People.com had an awesome interview with Karen and the rest of the SNF gang! Click here to be taken to the article.


Saturday Night Fever DVD release date: 10/08/02
Audio Commentary by the director and cast members and Karen herself!


Article on Karen Lynn Gorney in the May 2002 Autograph collector magazine. Karen is featured in the "10 Questions with Karen Lynn Gorney" section. If you would like to read Karen's article click the following pages. Page One - Page Two - Page Three