Karen's Art


Outside USA add $15.00 for shipping/postage/packing. Delivery in 3-4 weeks

If you would like to order one of Karen's signed art works listed below use credit card (punch "BUY IT" button).

Want Karen to do a portrait of your pet? Karen will do a watercolor, acrylic or pastel portrait of your pet 8 1/2" X 11 from a hard copy photo you send to her for $400.00 Un-framed on canvas board. Includes postage, packing and shipping. Outside USA add $15.00 for shipping/postage/packing. Delivery in 3-4 weeks. Contact Karen on Facebook



GERMAN WIREHAIRED POINTERS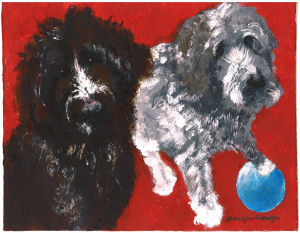 Karen just finished this wonderfully whimsical, commissioned portrait. The original is Acrylic on 8x10 Canvas Board. Order the Poster - 8 1/2"x11" Poster on board of Original Painting for sale $50.

shipping/packing/postage included




---
ART WORKS BELOW ARE FOR also for SALE will be SIGNED and can be dedicated to you if you like:
BLACK CAT Poster

"Black Cat" Poster 11x14
"All Cats Magazine" poster Image above is based on a sold out limited edition silk screen owned by John Travolta, Robert Stigwood and the Bee Gees. This was Karen's cat "Myshkin" who lived with her when she was on All My Children.The original painting was sold, and the silk-screen edition was printed right before filming Saturday Night Fever. Price $50. autographed, including shipping

---
Karen has been painting since she could walk and even before....and selling her own work since acting in her first film at the age of fifteen, the Cannes Award winner, DAVID AND LISA.

As an actress, Karen originated and still appears as "Tara" on ABC's Award winning ALL MY CHILDREN. After the first six years on the show; and lots of painting on camera, and in her dressing room ("Tara" was a painter), Karen created the now sold-out BABYFACE AND SOFT COLLECTION.

She then sold her first original screenplay SLOW DANCING, REAL CLOSE, and interestingly enough, it was about her own life as a painter!

Ms. Gorney's works are owned by Johnny Williams, John Travolta, Janis Ian, The Bee Gees, Robert Stigwood, John Badham, Larry Olivier, Walter Mirish, Cybil Shepard, Mandrill, Player, Blue Mink, and the Yip Harburg Estate in addition to many fans.

In New York, Karen has shown at West Central Graphics (one woman show), Turtle Bay Gallery, Zoma Gallery and Radius Fine Arts, and Excel Gallery; and in Los Angeles at Steven Stein Gallery, Dirks Perri Gallery, Ocean House Gallery, Eva Dorag Gallery, Spectra Galleries and Aaron Brothers Gallery:and at Rima Fine Arts Galleries in Scottsdale, Arizona. Karen has had five one woman shows at different Wells Fargo Banks all over the Los Angeles Area, in addition to owning and operating her own Gallery 7475 for two years.



Karen will autograph and dedicate all the artwork listed below to you.




Dancing Disco

(Giclee poster on board 11x17 signed)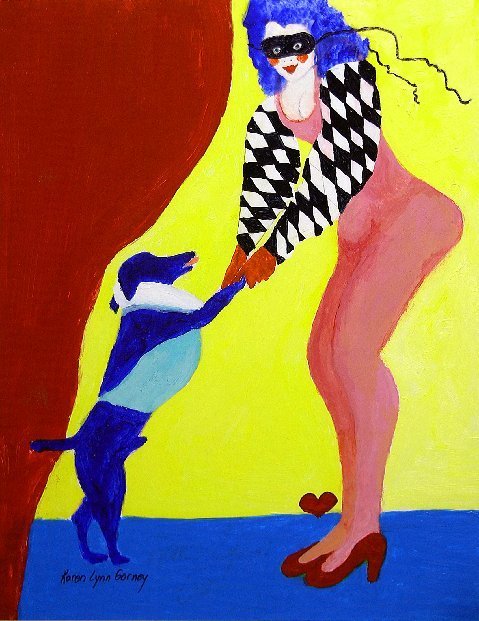 $60. Including postage shipping and packing in tube
---
Click the images below to view the art work bigger.



The 11x17 Giclee Poster on board above is based on an original drawing Karen created of "Stephanie" and "Tony." Karen did the original in John Travolta's trailer while filming the big Dance Contest scene in Saturday Night Fever. Karen gave the original to John at the end of shooting the film as a gift. He gave out a big laugh upon seeing it!

There is also a sold out limited edition Giclee print "8x11" on board signed and numbered of only 22 prints.
Price for Poster: $60.00 w/shipping in tube, autographed.



SOLD OUT!
---

The drawing above is a limited edition "81/2x11" signed and numbered Giclee print on board of Karen's beloved cat "GATO". He lived with her for the 18 years it took her to write and record her three CD's. He used to sit in her guitar case and wag his tail in time to her music. He was born on May 1 in Los Angeles, when Karen was staying in the guest house owned by "Phil" (Nick Benedict) her co-star from All My Children.

100 in edition. Currently only 11 left. Price: $40.00 w/shipping autographed.
---
"Colored GATO" Posters of original hand-colored prints owned by Karen Lynn

| | | |
| --- | --- | --- |
| Green | Pink | Blue |
| $40.00 each (unframed) Green. | $40.00 each (unframed) Pink. | $40.00 each (unframed) Blue. |
Buy all three Colored GATOS $120.00 (unframed). Prices include shipping.


---
Engagement Bouquet


Below are two images available on 20x26 archival paper, printed by Rima Fine Art and hand-painted by Karen Lynn based on her design created when she was recording songs for the USED TO LOVE YOU MADLY CD in London; and doing publicity there for almost a year after Saturday Night Fever. There are only three of these hand-painted giclees Karen owns one and won't part with it! Each one is hand-painted and each one is different!



"Yellow Carnation and Dark Pink Carnation"





Payments can be made by credit card or thru the mail with money order or cashiers check made to:
Karen Lynn Gorney
PO Box 23-1060
NY NY 10023


---
Want Karen to do a portrait of your pet? or your own bouquet of flowers? Karen will do a watercolor pastel, or acrylic portrait 8 1/2" X 11 from a hard copy photo you send her for

$400.00

Un-framed. Including shipping and she will autograph it to you if you like. 3 to 4 weeks for delivery




or send Money Order or Cashiers check payable to Karen Lynn Gorney at the following address:
Karen Lynn Gorney
P.O. Box 23-1060
New York City, NY 10023
PRINTABLE ORDER FORM
---
THE MAGIC ANIMAL SUITE


All images featured below are based on original pastels commissioned by fans. They are signed and numbered Giclee prints in editions of 20 each on poster board.

All prints featured below are 8 1/2x11 and are $40. including autograph and shipping. All four images $120.00





"Buddah"

Karen's beloved Feline!

Prints: 40.00 w/shipping autographed.


"Sandy"
Lennon's Dog
Prints: 40.00 w/shipping autographed.


"Jett"

Ken "Super-Mega Show" Mother's Cat

Prints: 40.00 w/shipping autographed.


"BD Blitzer - Gold/Champagne Poodle"
Karen's friend Patty's Dog
BD Blitzer is 71 lbs and 10" tall. He is also 17" long.

Prints: 40.00 w/shipping autographed.


"Birthday Bouquet" Poster
Poster based on a pastel crayon image 11x14 on poster board of a bouquet of roses given to Karen on her birthday at the millennium.



$60.00 unframed including shipping